Details Challenge 2 with Velas
On this page you will find content covering the following topics
Overview of main goals and details of the challenge

Summary of essential information necessary for the completion of the challenge

Real-life use cases that can be used for an exemplary solution space

Further links to training sessions with the protocol prior to the hackathon
Velas will host two pre-training sessions for all interested hackers: September 13th & 14th
Basics of the Velas technology and protocol

Tips and tricks for the challenge approach
Additional information useful for a challenge solution
Training session details:
September 13th 10:00 CET
September 14th 17:00 CET
Goals of the Challenge
Create a tool that can be used by end-consumers without a deep blockchain and technology background that solves one of the two use cases/examples.
The focus is on:
Analysis of publicly available on-chain data from targeted Tokens/NFTs and/or wallets.

Chain agnostic approach that covers several providers and technologies, so that end consumers have a value add of an overarching solution.
Overview and Details
The team has to consider the following details:
It is very difficult for consumers to identify the issuer of a token's smart contract and link the identity of the actual issuer.

At the same time, the usage of wallets, tokens, and other digital tools is being scrutinized for their CO2 footprint and environmental impact.

While neither origin nor environmental impact can be clearly listed, it is for consumers increasingly difficult to asses and decides.

End-consumers need to have a way to easily use tokens across chains without losing the essence of the smart contracts
Information that will be provided
Regulatory details and limitations

The exact use case for the creation and usage of the token

Basics of tokenomics (general token dynamics and creation/burn)

Velas technology is used to build the final solution
Real-life use cases
The challenge can be solved using two available use cases/examples from our industry partners. These represent real-world problems and applications that can make an impact and change.
A) Siemens – CO2 Footprint of NFTs
A solution that provides exact details about the CO2 footprint of the minting of a tokens/NFT. The footprint will be based on a set of pre-defined chain performance indicators.
B) Richemont – Token/NFT Provenance Analysis
Create an easy-to-handle tool that can provide information about the origin, details, and issuer of any token/NFT that are used as certifications & warentees for physical products. Identify fake NFT/Tokens solely based on publicly available data and information.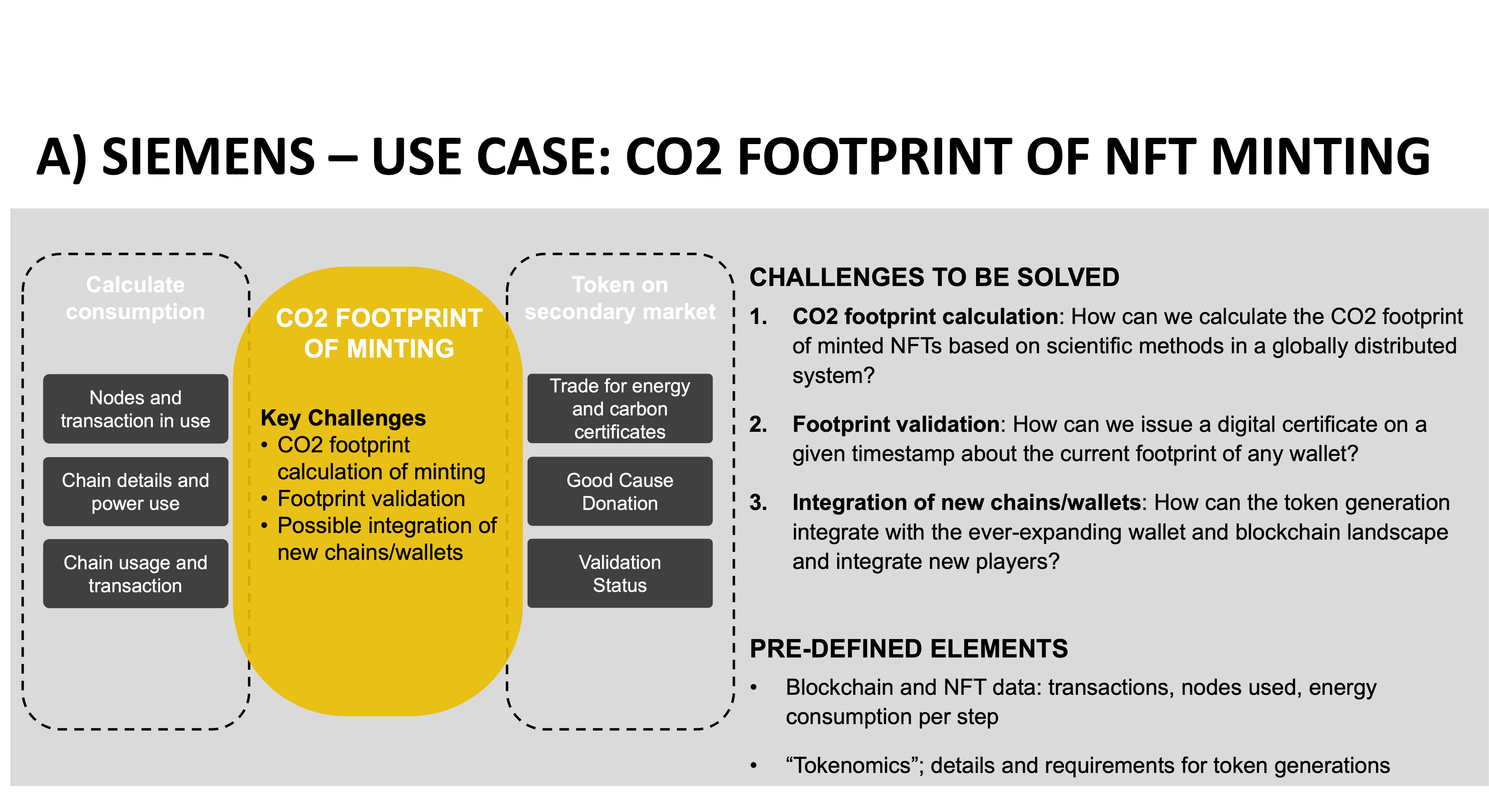 Clarifying CO2 footprint of NFT minting
The world is facing climate change and needs to reduce CO2 emissions while raising awareness about its impact on the environment. Transparency is needed in how energy consumption is linked to CO2 generation.

Enterprises as well as end customers – especially the younger generation – want to consume consciously and demand to know the CO2 footprint of services and products.

Crypto and Blockchain have been under criticism for high energy consumption and are often considered non-environmentally friendly.

There must be a way to create a token that can track, confirm, and prove the CO2 footprint of NFTs and

its

minting energy (potentially crypto wallets & digital assets) used by individuals.
HOW SHALL WE DO IT
Calculating the CO2 consumption and footprint of NFTs through the minting process

Application and tool that calculates the holistic CO2 footprint based on chain details such as nodes, computation, and minting method, in a way that might be used in combination with electricity prices.

Confirmation of CO2 usage by minting a unique token with all non-fungible details about consumption; entailing all details of the token issuer, provenance, and details.

The token can be used in the secondary market to prove the CO2 footprint through publicly available data.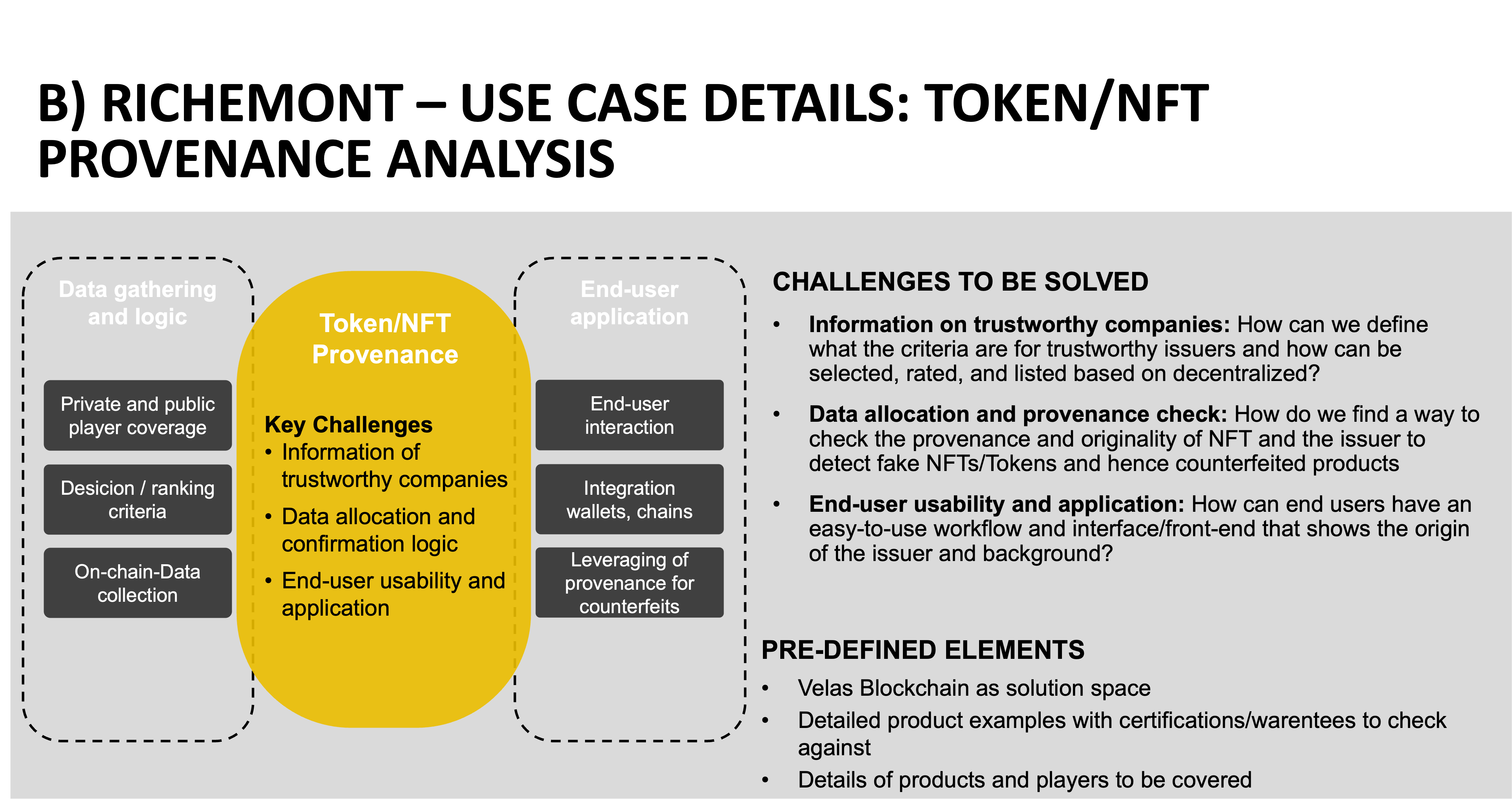 Token provenance and information explorer
It is difficult for end users to identify the actual origin and issuer of a token/NFT smart contract or confirm originality/provenance

Key information is publicly on-chain available however, it's not used to provide a value-add for an end-consumer

Some physical products can benefit from a blockchain-based certification via Token/NFT to avoid counterfeited products

e.g.

medical products or watches.

Any end consumer should be capable of checking the origin, authenticity, and originality of any NFT or Token with one easy-to-handle tool to identify counterfeited products or services.
HOW SHALL WE DO IT
Define what the criteria are for trustworthy issuers, and which key information is necessary for trustworthiness.

Decide on the method for data collection of markets, blockchain, and exchanges that are required for the overall assessment.

A check of the NFT/Token shall show if the digital certification/guarantee is legit and linked to the original manufacturer and/or issuer.

The solution shall be a tool based on the Velas chain that any end user can use a tool without deep blockchain or technology knowledge.